Dan Elliott Auctions
With more than 20 years of experience, there's little doubt that Dan Elliott is one of the premier auctioneers in Western Wisconsin. Dan, who serves the greater Sparta - La Crosse - Tomah area, has conducted hundreds of auctions over the past three decades.
He brings 20-plus years of experience to all different types of auctions, including estate, personal property, farm, business, commercial and real estate.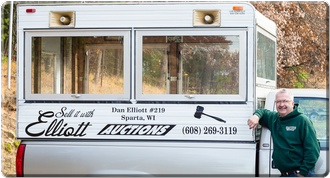 Reputation-
Dan's knowledge of the business and his expertise built up over the years ensures his customers consistently receive top dollar at their auctions. Born and raised in the area, Dan has spent a lifetime building a reputation of quality and commitment to his trade. Dan knows the business inside and out, and he's always willing to work to meet the needs of his customers.
If you're interested in Dan's services or have questions concerning the business, feel free to contact him at 608-487-5114.